<![if !IE]> <![endif]>

Engagement Global gGmbH Service für Entwicklungsinitiativen
Friedrich-Ebert-Allee 40
53113 Bonn
Germany
+49 228 207170

+49 228 20717150

List of product entries
This exhibitor shows the following products and commodity groups:

Company & products
Company
Company profile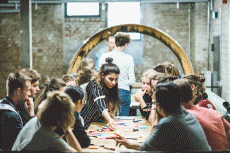 Unternehmensportrait
Engagement Global gGmbH – Service für Entwicklungsinitiative
Engagement Global informiert und berät Einzelpersonen, Zivilgesellschaft, Kommunen, Schulen, Wirtschaft und Stiftungen zu entwicklungspolitischen Vorhaben und fördert diese finanziell.
In der Bildungsarbeit sind wir unter anderem aktiv mit dem Programm Bildung trifft Entwicklung, dem Schulwettbewerb zur Entwicklungspolitik und dem Song Contest, dem Entwicklungspolitischen Schulaustauschprogramm ENSA und dem Freiwilligendienst weltwärts. Engagement Global arbeitet im Auftrag der Bundesregierung.
Products
Curriculum Framework Education for Sustainable Development