<![if !IE]> <![endif]>

alfaview GmbH
Kriegsstr. 100
76133 Karlsruhe
Germany
List of product entries
This exhibitor shows the following products and commodity groups:

Company & products
Company
Company profile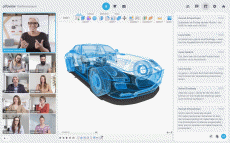 Unternehmensportrait
alfaview® Video Conferencing Systems
alfaview® ist eine lippensynchrone Videokonferenzlösung, die es Ihnen ermöglicht, Online-Meetings mit Live-Videoübertragung in sehr hoher Qualität und Stabilität durchzuführen. Mit alfaview® können 20, 50, 100, 200 oder mehr Personen gleichzeitig mit Bild und Ton miteinander lippenynchron kommunizieren - stabil, in hoher Bildqualität, weltweit und in Echtzeit. Der Zuschauermodus ermöglicht die Teilnahme von bis zu 500 Personen im virtuellen Raum.
Mit alfaview® führen Sie Ihre Videokonferenzen DSGVO-konform durch. Als deutsches Softwareprodukt erfüllt alfaview® strengste Datenschutzanforderungen. Daher vergibt die Berliner Datenschutzbehörde an alfaview® die maximal zu erhaltenden vier grünen Ampeln.
Products
alfaview® Video Conferencing Systems
Trademark
alfaview® Video Conferencing Systems