<![if !IE]> <![endif]>

Millennium 2000 GmbH
Heisenbergbogen 1
85609 Aschheim
Germany
+49 8929003529

+49 8929003520

List of product entries
This exhibitor shows the following products and commodity groups:

Company & products
Company
Company profile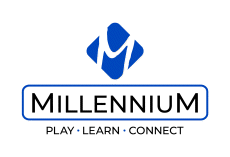 Unternehmensportrait
PLAY. LEARN. CONNECT. 
Wir entwickeln elektronische Produkte, die eine gemeinsame Mission vereint: Sie sollen virtuelle Inhalte greifbar und real erlebbar machen. Sie sollen Brücken bauen und Menschen verbinden.
Im Bereich DIGITALES LERNEN sind das effektive Hilfsmittel zur Sprachförderung und -entwicklung als Schlüssel zur Teilhabe an der Gesellschaft. Mit dem ANYBOOK AUDIOSTIFT bieten wir eine innovative audio-digitale Lern- und Kommunikationshilfe für den Einsatz in der KiTa, Grund- und Förderschule sowie Unterstützten Kommunikation. 
Unsere Produktlösungen im Bereich DIGITALES SCHACH verschaffen Spielern den plastischen Zugang zu einer weltweiten Community, die eine gemeinsame Leidenschaft eint.
Unsere Expertise stammt aus permanentem Austausch mit unseren Zielgruppen sowie jahrzehntelanger Erfahrung in der Konzeption und Vertrieb passender Produktlösungen sowohl für Endkunden als auch führende europäische Handelsketten.
Products
Anybook Reader (DRP5100)