<![if !IE]> <![endif]>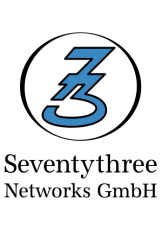 Seventythree Networks GmbH
Boschstr. 8
82178 Puchheim
Germany
List of product entries
This exhibitor shows the following products and commodity groups:

Brands:

Beutzeradmin
Schuladmin
Seventythree Networks GmbH
Company & products
Company
Company profile

Unternehmensportrait
Seventythree Networks GmbH 
Das innovative System- und Softwarehaus Seventythree Networks GmbH mit Sitz in Puchheim bei München stattet seit dem Jahr 2001 bundesweit und schulartübergreifend Schulen mit modernen didaktischen IT-Lösungen aus.
Die Firma entwickelt aus tiefster Überzeugung heraus maßgeschneiderte IT-Lösungen für Schulen und trägt somit dazu bei, Schülern den Umgang so wie das Lernen mittels digitaler Medien zu ermöglichen.
Für die beste Qualität von Hardware, zuverlässige Software und schnellen IT-Support vor Ort hat die Seventythree Networks ein Partner-Netzwerk bestehend aus Technologiepartnern und Resellern erschaffen und baut die Service-Standorte weiterhin aus. Ein Netzwerk an zertifizierten Partnern aus IT-Systemhäusern in der DACH-Region garantiert einen fachmännischen und schnellen IT-Support vor Ort. Durch Fernzugriff und Fernwartung bietet Ihnen die Seventythree Networks einfachen Software-Support und steht Ihnen für Fragen und IT-Lösungen online und telefonisch zur Verfügung.
Products
Schuladmin
Trademark
Benutzeradmin - Benutzerverwaltung noch einfacher
---
Schuladmin - die pädagogische IT-Lösung
---
Seventythree Networks GmbH