<![if !IE]> <![endif]>

Stay Informed GmbH
Am Reichenbach 1b
79249 Merzhausen
Germany
List of product entries
This exhibitor shows the following products and commodity groups:

Company & products
Company
Company profile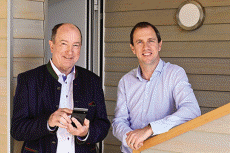 Unternehmensportrait
Die Firma Stay Informed wurde 2014 von Peter Horner und seinem Schwiegervater Lothar Ganter gegründet. Zunächst wurde die Kita-Info-App in Kooperation mit Kita-Personal entwickelt, später folgte die Schul-Info-App. Mittlerweile gibt es ein festes Team aus rund zwanzig MitarbeiterInnen, die sich am Standort Merzhausen bei Freiburg um die Kita-Info-App und die Schul-Info-App kümmern. Rund 600.000 Eltern in 8.000 Einrichtungen nutzen die Kita-Info-App und Schul-Info-App. Das Unternehmen selbst wurde zum zweiten Mal mit dem "Jobmotor" ausgezeichnet. Dieser Preis wird von der Badischen Zeitung und ihrer Partner verliehen und prämiert Unternehmen, die neue Stellen geschaffen haben. Zudem erhielt die Kita-Info-App das Siegel "Beste Kita-App" vom Apps Magazin (CDA Verlag), das in der DACH-Region erscheint.
Products
Kita-Info-App
Schul-Info-App