<![if !IE]> <![endif]>

HABA Sales GmbH & Co. KG
August-Grosch-Str. 28 -38
96476 Bad Rodach
Germany
List of product entries
This exhibitor shows the following products and commodity groups:

Brands:

HABA Pro
Wehrfritz
Wehrfritz
Company & products
Company & products
Company & products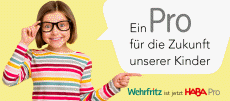 Unternehmensportrait
Die HABA FAMILYGROUP ist ein international tätiges Familienunternehmen, das seit seiner Gründung vor über 80 Jahren zu einer Großfamilie herangewachsen ist. Es wird bereits in der dritten Generation geführt und vereint starke Marken unter seinem Dach. Wir sind Wegbegleiter und Wegbereiter für Familien.

An unseren Standorten arbeiten über 2000 Menschen daran, die Welt kinderfreundlicher zu machen. Wir haben klare, gemeinsame Vorstellungen von einer kinderfreundlichen Welt. Wir nutzen vielfältige Gestaltungsspielräume, um Ideen dafür zu entwickeln und haben den Mut, dabei eigene Wege zu gehen.

Wir sind Bildungspartner:
HABA Pro entwickelt Konzepte und Produkte, die die Lern- und Spiellandschaft von Kindern abwechslungsreich und zukunftsorientiert gestalten - und zwar überall dort, wo Kinder sind. Nachhaltige Bildung gelingt unserer Auffassung nach nur, wenn Raum, Ausstattung und Pädagogik eine Symbiose bilden.

HABA Pro bündelt das jahrelange Know-how der HABA FAMILYGROUP im Bildungsbereich und stellt die Zukunftskompetenzen von Kindern ins Zentrum. Als verlässlicher, moderner Partner steht die Marke in allen Fragen rund um das Thema Bildung mit Herz und Leidenschaft an der Seite ihrer Kunden. Ob innovative Design- und Möbelkonzepte, individuelle Beratung und Planung oder Produkte, die ein Höchstmaß an Qualität und Sicherheit erfüllen – bei HABA Pro erhalten Schulen, Bildungsträger, Krippen, Kindergärten, Kitas und Horte alles aus einer Hand. Abgerundet wird das Angebot von Dienstleistungen und Services im Bereich digitale Bildung.
Trademark

HABA Pro

---

Wehrfritz - ist jetzt HABA Pro